Blog Published: January 2023
Meet Briana! She's a Commercial Technical Designer that has been at Namaste Solar for about eight years. She's always been really passionate about fighting climate change so we think she ended up at the right place!
Why were you first interested in working at Namaste Solar?
I was first interested in working here because at my old solar company I was supposed to get into the engineering team, and it didn't work out so I was excited to have the chance to get into design here. I graduated college in environmental engineering, so design just aligned with what I had always wanted to do which was be in solar and do something I was passionate about.
What motivates you to wake up and go to work?
One factor is the people here at Namaste Solar – they are really fun to work with and I also get a real sense of purpose out of my job and a sense of doing something good for the world.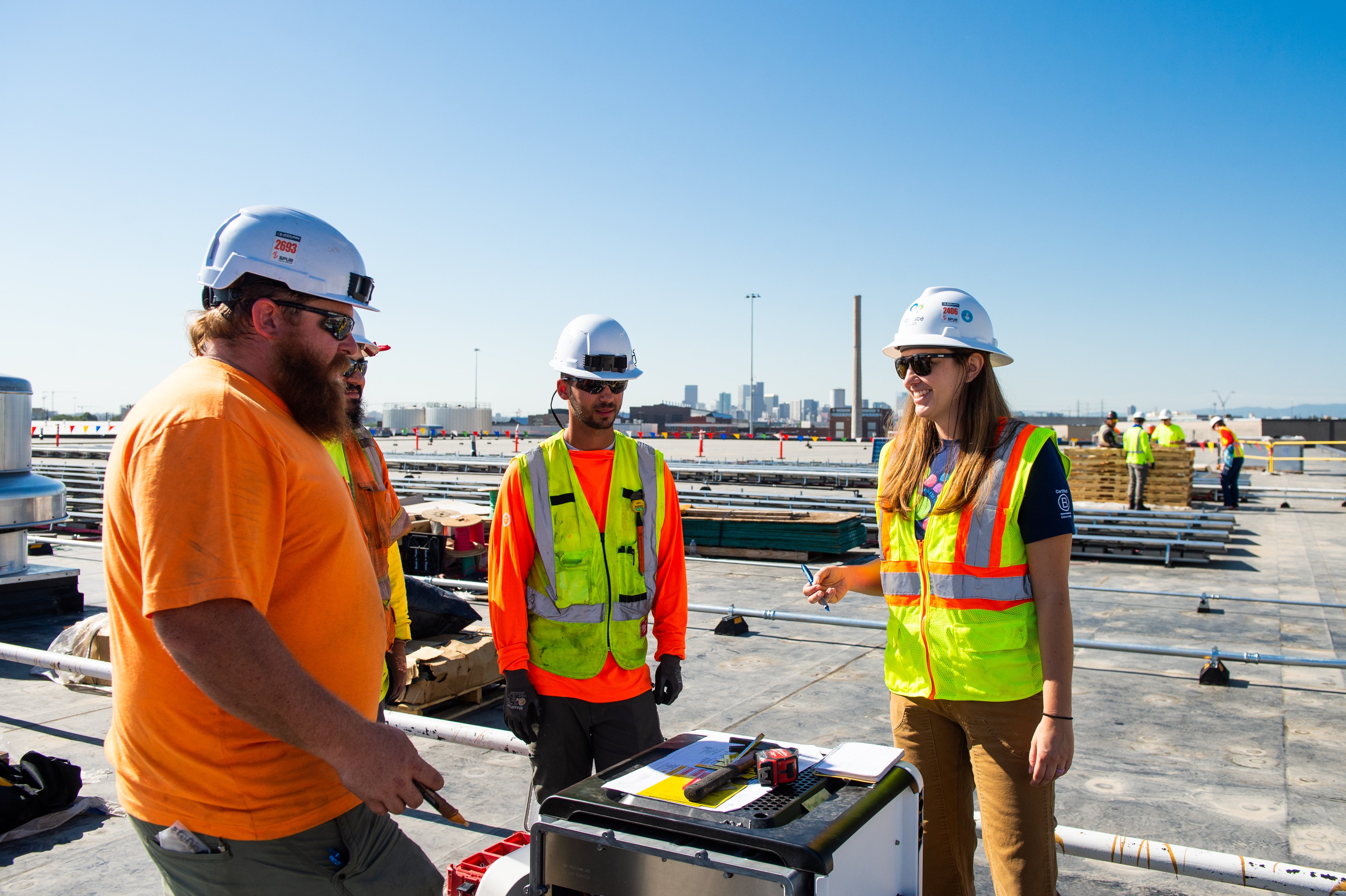 What is something about your job that most people don't know about?
A lot of solar or design firms have specific job roles for different aspects of the design. For example, there will be someone who does the electrical engineering and someone who is drafting on the computer, but here we do all of it. It makes us really well rounded, and it helped me learn a lot about all aspects of solar.
What's been one of your proudest moments working here?
There's two – the first moment I had was starting a new branch of the residential design team and kind of creating a new role and section of the team and then leading them. The second is that my second ever commercial design was for Auraria Library, which was a really big system and the largest roof mount system in the city of Denver. It was really tough, and I was still super new to commercial design. There were a lot of challenges, but I made it through with lots of support from my teammates. And it turned out great!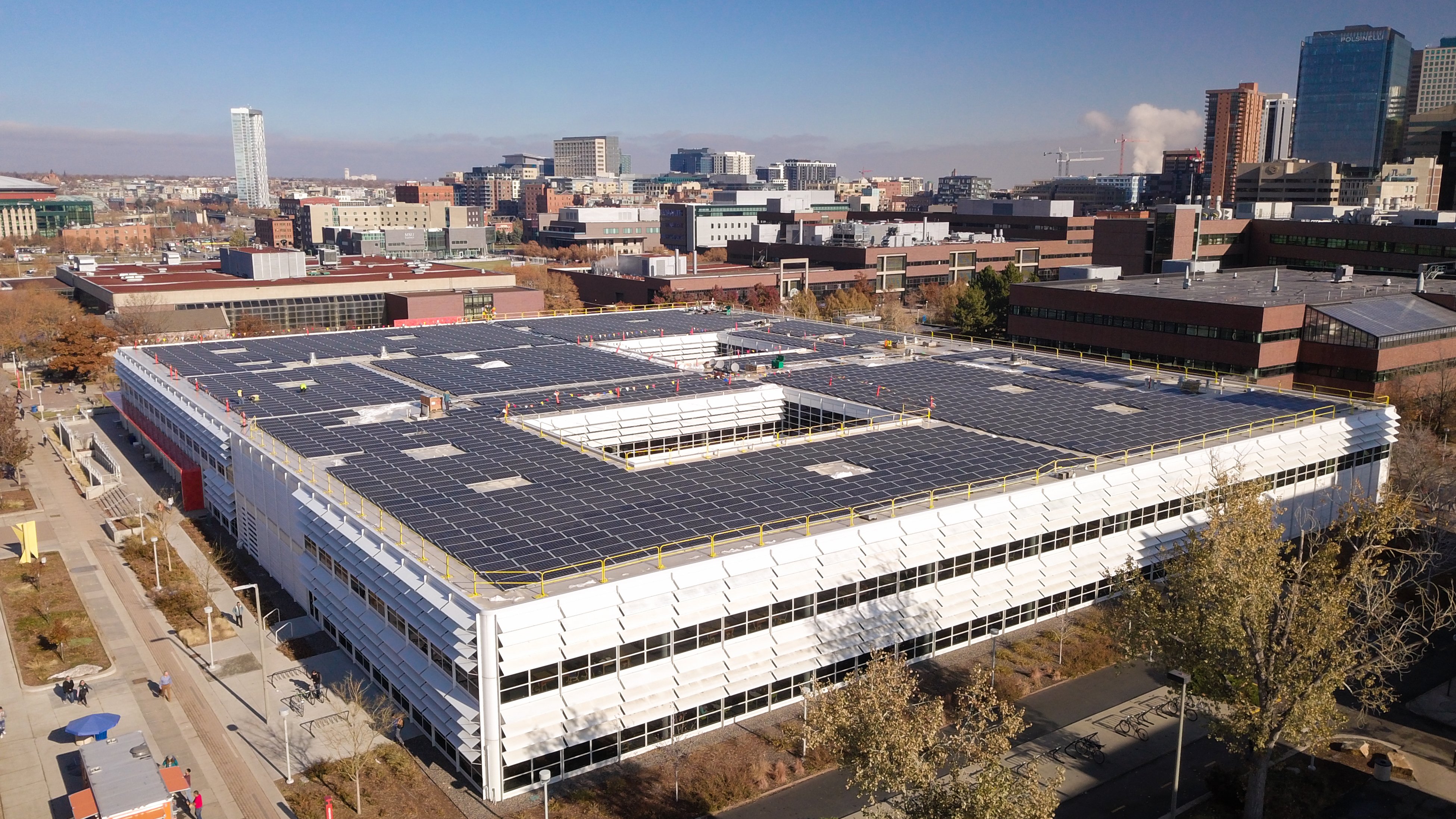 What's the most unique part about working at Namaste Solar?
I get excited for the days that I get to come into the office instead of working from home because I just really enjoy being around the people that I work with.
How has Namaste Solar helped you develop your skills and career?
I've worked my way through four different design roles here. I started as a residential designer for new build homes and was promoted to the lead designer there and then as I mentioned I helped start the other sub team of residential design that was focused on internal designs, which really helped me grow as a person, as a leader, and as a designer. All of that led me to where I am today on the commercial team. Namaste Solar has also supported me financially in getting certificates and hopefully soon in getting my professional engineering license!
What advice would you give to recent new hires?
Really lean into the opportunities to be involved with the cooperative. It's a really good opportunity to learn about business, solar, and people. Plus, it can also be really rewarding.
What do you like to do when you're not at work?
I like to read, hike, play with my dogs, snowboard, and hit up breweries.
What is something most people don't know about you?
This one is tough because I tend to overshare with people so I think maybe those who are newer to Namaste Solar wouldn't know that I am super shy and it took me years to get to this point of oversharing with the folks that I work with. Normally when someone meets me for the first time I can barely get two words out of me that aren't awkward and embarrassing.
If you could pick one superpower, what would it be?
I would want to have the ability to slow down or stop time for everyone else but me so that when I'm stressed, I can just press pause on everyone and take time to decompress and it won't affect anyone else.
What is your favorite song/album/artist right now?
My favorite band is Ripe. They're really good in person. They are hard to explain – they have a horn section which is always really exciting in music for me.
One of our core values is "Come as you are" and part of that is working to build a culture where people feel able to be their full selves at work. How have you experienced "come as you are" at Namaste Solar?
As I said, I was super shy at first, but now I feel like I'm just unapologetically weird here and I don't worry about what other people think, which is fun! Because a lot of other people here are weird.
What parts of our mission do you most connect with?
I think the responsible use of solar energy is the one I most connect with. Since I was younger, I always felt a pull to do something to help stop impending climate change. It was something that at a young age really worried me that a lot of other people my age weren't really thinking about.
Recommended Reading