Blog Published: March 2023
Meet Jonny! He's worn a lot of hats from electrician to professional musician and recently he added the title of O&M Portfolio Manager to his resume. At Namaste Solar, we encourage people to bring their authentic selves to work and Jonny has definitely embodied that. This company allows us to meet so many interesting people and we're grateful that Jonny is one of them!
How long have you been with Namaste Solar and why were you first interested in working here?
I think I'm coming up on my 9th anniversary in August, but there was a year off in there due to COVID. I was interested in coming here because I had been doing tenant remodeling as an electrician for about 10 years, and it was a lot of the same over and over again. I was getting really burnt out, and at the same time I was starting to think about pursuing a career as a professional musician. I put in my two weeks on a whim at my company, and I had no idea what I was going to do until I got in contact with a former Namastalien. He said Namaste Solar needed a journeyman. So, I ended up working 30-hour weeks for the first 6-7 years here while I also pursued my dream of being a professional musician.
What motivates you to wake up and go to work?
I think first and foremost, my family. Providing for my family and knowing how good this opportunity is and not wanting to mess that up. Secondarily, I am motivated to work because I have awesome teammates on the O&M team. We have a lot of visibility on what each team member is doing, and it is really motivating to see your teammates working really hard, doing really tough stuff, and being excellent at their jobs. After that comes all our core values and principles as a company.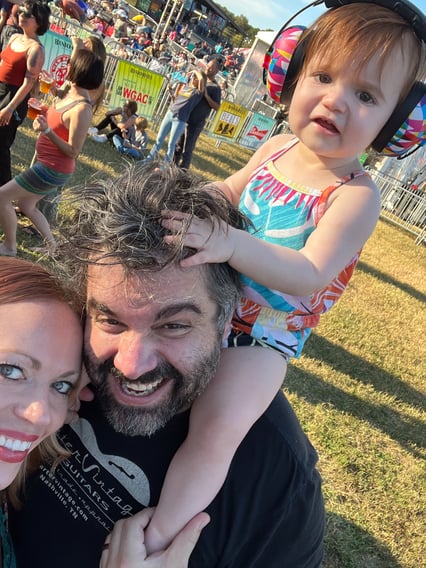 What is something about your job that most people don't know about?
People in the company might not know that my team is essentially on call seven days a week. Our technicians travel all over Colorado because we have one or two customers where we are accountable for the system's operations at all times. We are definitely the front line of keeping kilowatt hours on the grid.
What's been one of your proudest moments working here?
Honestly just getting hired onto the O&M team and moving from the field to the office. I spent 20 years on construction sites in the field, and getting into the office is always on the minds of a lot of folks in the field. It's less complicated here [compared to other companies] to move into the office because we strive to provide that opportunity, but it was a moment of pride for me to instantly feel like I was appreciated and heard the second I started in my office role. It was pretty cool to be in a role that I had been thinking about but never knew how to execute until I caught wind of this position opening up. Namaste offered and provided support, training, and patience with the fact that I was new to a desk job and the last couple years had been a whirlwind in my personal life.
What's the most unique part about working at Namaste Solar?
Really the most unique part about working here is that you have the opportunity as an individual to help drive the direction of the company. In the corporate world, especially in construction, that is pretty much nonexistent. The cooperative and the B Corp side of our company is definitely what sets us apart.
How has Namaste Solar helped you develop your skills and career?
When I started, I was purely an AC electrician doing commercial installs, offices, grocery stores, gas stations, that type of stuff. Namaste Solar just expanded my knowledge of the solar field because I had zero experience with solar when I started. They provided training plus the opportunity to be a co-owner and learn how the business operates on a higher level as well.
What is it like to transition from a field to office role at Namaste Solar? How did your team(s) support that transition?
The Commercial EPC team was great – all my teammates were just kind of expressing how they thought I would be a good fit in the office role, working with me to make the transition as seamless as possible, and just being extremely supportive of me advancing my career. And now O&M and Commercial EPC are on the same team so it's great to still spend a lot of time with the people I got to know and work with over the past 7-8 years.
What advice would you give to recent new hires?
My advice to new hires would be to come with a mindset of collaboration and come with a mindset of offering something to the cooperative. Focus on what you can do to make this a better place to work rather than what the company is going to offer you. There's a balance there but I feel like the whole point of this cooperative is to motivate people to be excellent.
Where are you from? (If not from CO) Why did you move to CO?
I was born in Ohio, and I moved out here in 1992 when I was 12 years old. Our family moved because my dad liked the John Denver song Rocky Mountain High. It created a dream to move his family out here one day and have some land and buy a horse for my mom and raise his kids in the mountains.
What do you like to do when you're not at work?
Right now, I just like to spend time with my daughter. She loves being outside so I like taking her outside and anytime I can take her to have a new experience and watch her react is my favorite thing.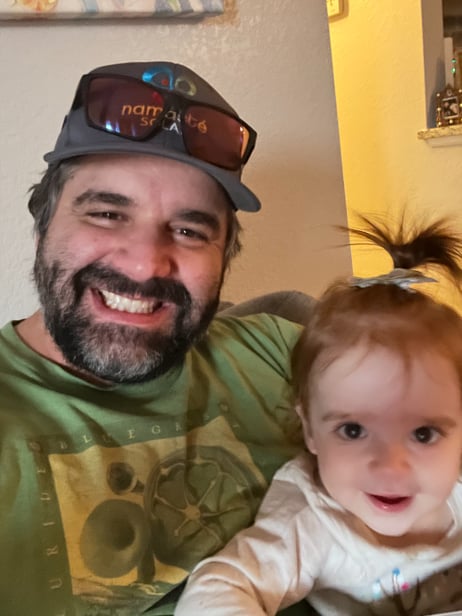 What is something most people don't know about you?
One thing that most people don't know about me is that I lived in a commune for a summer when I was 20 years old.
What parts of our mission do you most connect with?
I think what keeps me here is just the level of person that we keep at this company. The part of our mission that I connect with the most is collaboration - the people behind the scenes that make the company run like the Board of Directors and the HR folks, the people that sacrifice so much to make things better for everyone.
Recommended Reading