Change is on the horizon for Xcel Energy customers. The largest utility company in the state is switching their approach to billing in Colorado by adopting time of use rates. With the new time of use rates, residential customers will see changes in their Xcel energy bill based on when they use energy instead of simply how much energy they use. Luckily, these new rates could benefit those who have solar and may even decrease your Xcel energy bills.
Read on to find out how time of use rates may impact your Xcel energy bill and how solar can maximize your savings.
How Does Time of Use Rates Work?
Time of use rates are not new to the Colorado Front Range – in fact, Fort Collins has been using this approach since 2018.
As the name suggests, time of use rates means that instead of being billed the same rate for all the energy that you use, you'll instead pay different rates for energy depending on what time of day you use energy. Xcel breaks this down into three different time slots.
Peak hours: The hours between

3-7 p.m. Monday through Friday

are defined as peak hours. During those hours, you would be charged the most for the energy that you use compared to other times of the day.
Off-peak hours: Off-peak rates, when the price is the lowest, occur on weekdays from 7 p.m.-

1 p.m

. the next day, as well as weekends and holidays.
Shoulder hours: The time between 1 p.m. and 3 p.m. are known as shoulder hours. The price charged during this time period is not as expensive as peak times, but not as cheap as off-peak rates.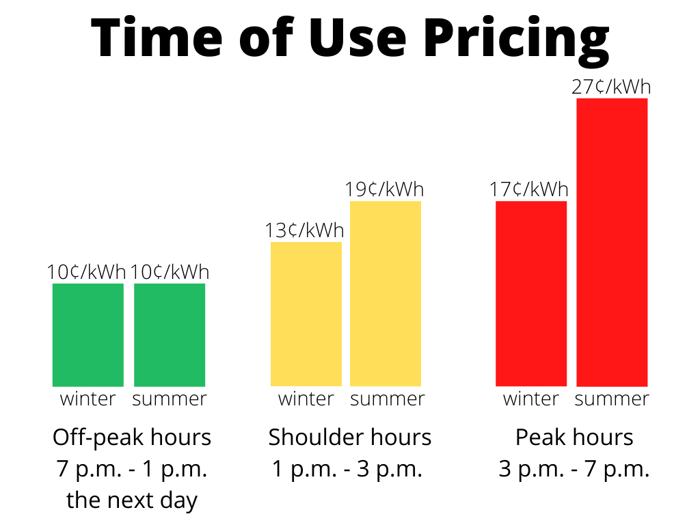 Graph design and data: Xcel Time of Use FAQ and Settlement Agreement Report
Beginning in January 2021, Xcel started installing smart electric meters on the homes of residential customers that were participating in the time of use trial. They will continue to roll out this program and install these new meters across Colorado; they expect to have all meters updated by December 2024.
Once a customer's new smart meter is installed, they will automatically be switched over to time of use pricing. These smart meters will capture your electricity use data at more frequent intervals than a standard meter. Customers will not be charged for these new meters.
Click here to learn more about what your Xcel Energy time of use bill will look like.
How will Time of Use Affect my Xcel Energy Bill?
Depending on your lifestyle, time of use rates could cause your Xcel energy bill to either go up or down. It depends on what time of day you decide to perform tasks such as doing laundry, cooking food or running your dishwasher. During peak hours of the day (3-7 p.m.) energy usage is more expensive. This is because around this time of day, energy use increases and is more expensive for the utility to produce or purchase. People usually come home from work and school within these peak hours and, as a result, their energy usage goes up. To avoid rising costs, you can save money by doing heavy energy usage activities like running the dishwasher, washing machine, or dryer outside of peak hours.
How does Solar Fit into Time of Use Rates?
We have good news – time of use rate is a positive for solar customers. Your solar system will generally be producing energy during those peak hours, so it can offset the energy expenses that you may accrue during that window of time. We have heard from a number of our solar customers in Fort Collins that they've seen their utility bills decrease on a time of use rate.
"If you have a solar system, it makes even more sense not to use your clothes dryer during peak hours because that's when you're banking the highest value for any net production," said Sarah Gledhill, utility and permitting coordinator at Namaste Solar. "With time of use, you can be energy efficient and get the most value out of your solar system."
Time of use rates will also affect the benefits of solar. If customers transition their energy usage away from peak hours, solar production recorded during peak time will be worth more money than before. By earning more for solar produced during peak hours, customers could see a quicker return on investment on their system, especially if you have a south or west facing roof since they are exposed to more sunlight in Colorado.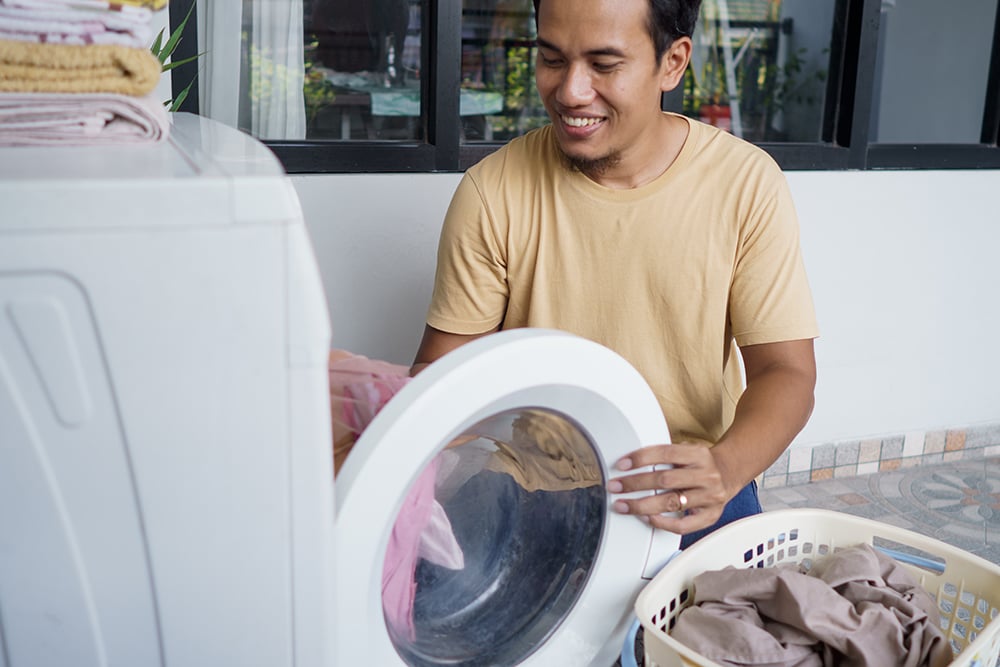 To reduce your energy bill, perform high energy tasks, like running your laundry through your washer and dryer, during off-peak hours, 7 p.m.-1 p.m. (the next day).
When will I get my New Smart Meter?
Unfortunately, there is not currently a clear timeline as to when Xcel customers will receive their new smart meters, but this 2021 Smart Meter Installation Map gives a good idea of the installation process.
Can I Opt Out of Time of Use?
For those customers who do not want to switch over to time of use rates or have a new smart meter installed, Xcel does offer the opportunity to opt out of the program. To opt out and return to the standard rate, you'll have to give Xcel a 30-day notice and call 800-895-4999.
Time of Use Rates and Solar
While change is never easy, many Xcel customers could experience lower energy bills with the time of use rates structure. Unfortunately, they could also see an increase. Avoid paying a higher energy bill by switching to solar. Our non-commissioned solar experts will assist you in determining whether solar is the right fit for your home and help you navigate the time of use rates structure so you can save money on your energy bill.
Recommended Reading: