Blog Published: February 2022
At Namaste Solar, we love to shed some light on the amazing people that contribute so much to our company and community. This spotlight features Grant Mullen, Co-owner and Commercial Assistant Project Manager at Namaste Solar.
How long have you been with Namaste Solar and why were you first interested in working here?
I've been here over 5 years. I was previously working for another solar company in Maine, Revision Energy, and they are part of the Amicus Cooperative . [Amicus Solar is a member-owned purchasing cooperative of 66 high-quality, independent, values-driven solar energy companies.] Revision Energy recommended I seek out another member of the collective, Namaste Solar, when I made the move to Colorado.
What motivates you to wake up and go to work?
Knowing that we are helping with society's shift to renewable energy.
What is something about your job that most people don't know about?
I am currently working within my team on an installer training program. The goal is to have standard practices for the first six months. We believe this will increase our skill set as a team and create less turnover with people feeling more supported in their roles.
How does Namaste Solar stand out in the commercial solar field?
NSE stands out in the commercial field as being a high-quality solar contractor. I really enjoy the large-scale PV ground mount tracking systems like the community solar gardens we have been building. We have currently built four of the 2 MW solar gardens for Xcel Energy with two more 2 MW gardens to be built this year.
What's been one of your proudest moments working here?
One of my proudest moments would be getting to be a part of the IBM project build (a project completed through Namaste Solar's partnership with NextEra Energy). At 10MW of power (about 1,195 home's energy offset for one year) it is the biggest project I have ever worked on; I want to work on more utility scale projects in the future to help speed up the transition to renewable energy.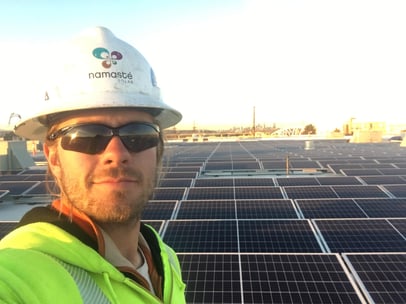 How has Namaste Solar helped you develop your skills and career?
I went through two years of electrician classes which expanded my understanding and knowledge of the work we install. It also helped my safety perspective and changed how I approach bigger electrical gear knowing and respecting how dangerous it can be.
Being a co-owner in a fully transparent company has helped me see how business decisions are being made. It has been interesting to see our financials.
And, I have been able to change roles a few times within this company. When Namaste Solar promotes from within, I think it really helps people develop and move into roles that are more aligned with their goals.
What advice would you give to recent hires?
Learn the bigger picture. Sometimes our jobs seem small or repetitive, but they lead to a much bigger goal, and when done right they'll lead to better results and business relationships.
Where are you from? Why did you move to CO?
I am from Maine originally, moved to Colorado for better snowboarding.
What do you like to do when you're not at work?
I like to hang out with my girlfriend and our dog, go on hikes, play hockey, go snowboarding, ride mountain bikes, and try new breweries and restaurants.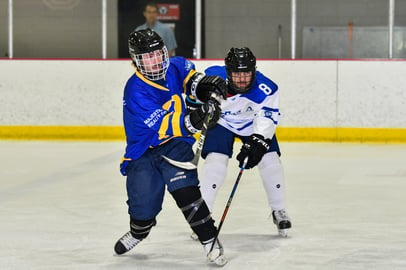 What is something most people don't know about you?
I have spent time working as a farm hand.
Where would you go on your dream vacation?
Switzerland to snowboard and ride trains through the mountains.
Recommended Reading: