Safety is one of our core values here at Namaste Solar. Navigating the ins and outs of safety for a company that works on rooftops and with electricity can be a challenge, and it has proven especially tough with COVID-19. Luckily, we have some great team members who are passionate about keeping our employees and work sites safe.
Namaste Solar Co-Owner Candidate Emily Paulsen is one such employee that has proved vital in navigating the safety of our staff both during normal circumstances and COVID-19. She started off with Namaste Solar as a solar installer and now serves as our Safety Specialist on our safety team. Among her many accomplishments here, Emily has helped increase workplace safety and serves on many Namaste Solar committees.
We caught up with Emily over video and chatted about her work, how she is staying busy during COVID-19, and what her plans are post-pandemic.
Where are you quarantining and who are you quarantining with?
I am quarantining from an apartment on Capitol Hill with my partner and my dog. It's been really nice!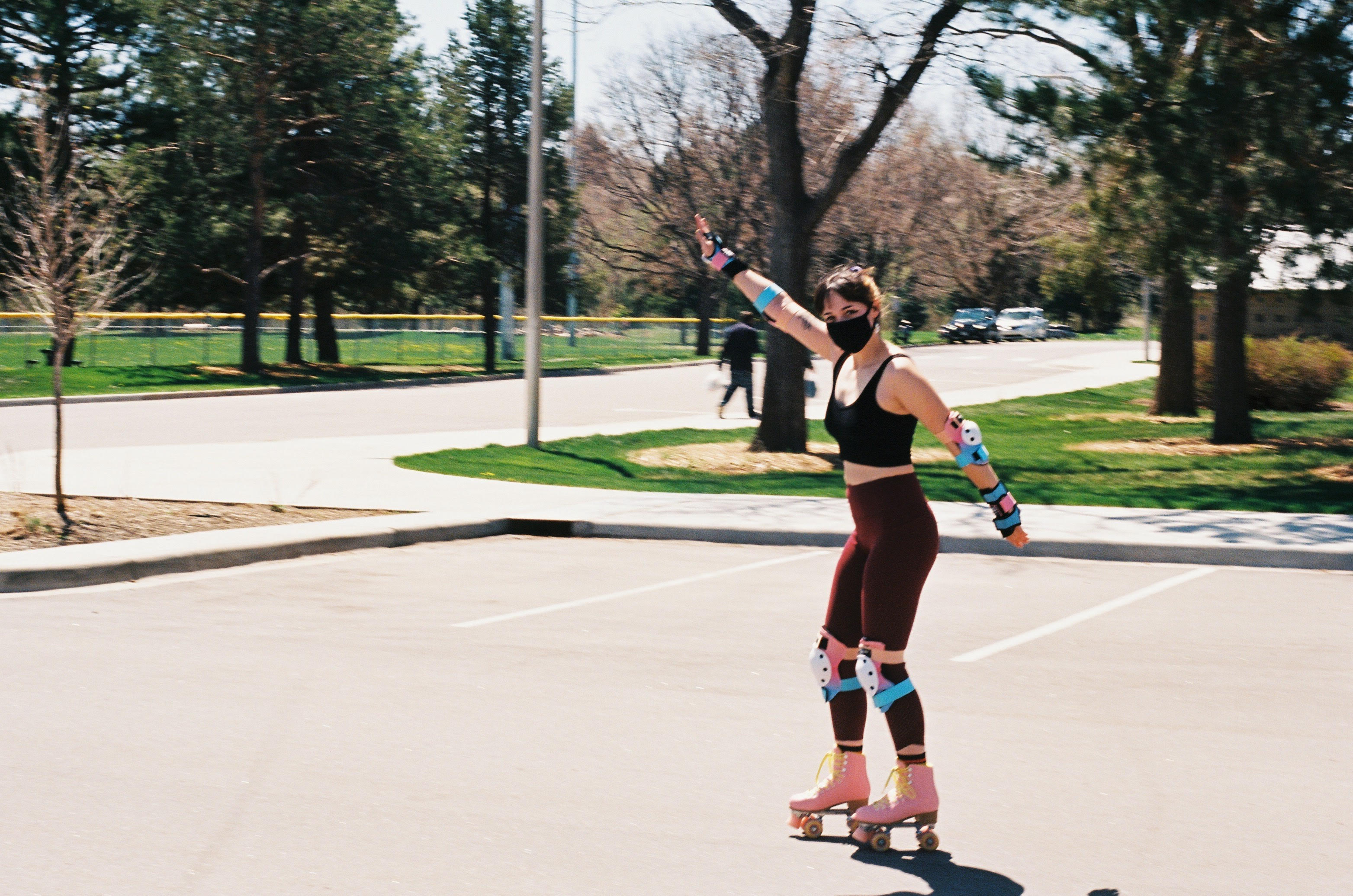 Emily demonstrates safety - even on her skates!
Have you taken on any personal projects/activities since quarantine began?
This is my favorite question! One thing that I did was I finally bit the bullet and bought some roller skates because for so long I was like, "I'm not doing this –it's too expensive." But I finally bought some skates that fit me right and I love them. I've been skating every day. It's one thing I can do while social distancing.
I also bought all these little disposable cameras for a project that I started before coronavirus. I'm mailing out disposable cameras with these little booklets I made. The booklets have instructions on what you're supposed to do: Take a couple of photos and draw whatever you want on the blank pages in the booklet. Then, when they send them back to me, I'll superimpose people's drawings onto the photos they took. There's also an extra page I had to make that instructs you how to sanitize the camera and to wait five days before giving it to anyone else after touching it.
Describe your position at Namaste Solar.
Before coronavirus, half of my job was maintaining the training that makes us OSHA compliant, online training, weekly safety meetings, safety inventory, safety data sheets, new hire orientation, inspecting ropes and harnesses. The other half of my job was driving out to work sites and doing inspections and giving out cookies. Now I can't do that anymore with COVID-19.
You're working as a safety specialist during a really strange time. What has that experience been like?
There are so many rules and policies in different areas. There's Namaste Solar policies from the COVID Task Force, executive orders from the governor, public health orders, etc. Having to get all of those things in my brain, all the time, and wrap my head around them and also be updated all the time, it's pretty hard.
I've also started doing call-ins with all the installers on a crew-by-crew basis. I think there are 14 crews right now that I'm calling. Basically, I call and I ask about the community they're working in, social distancing, wearing masks, etc. I'm also checking in to see if they're doing good. I'm hoping this is giving them a voice.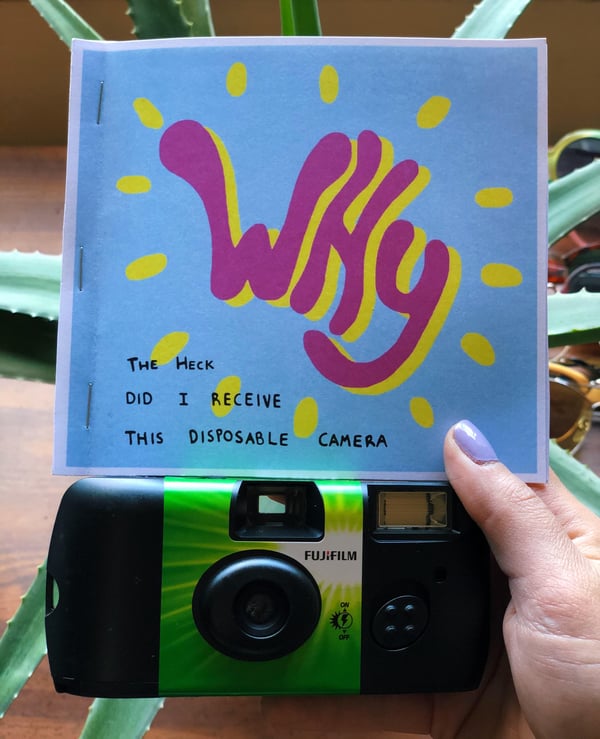 Emily's summer project of sending out disposable cameras and booklets to friends.
What is something about your job that most people don't know about?
Navigating the OSHA website, and it can be really challenging! For example, an OSHA standard might say, "all construction workers must eat oranges." But OSHA fine print might say, "you can eat an orange, but you have to be holding an apple at the same time." Then after doing some digging, I'll find another letter that says, "in order to legally hold an apple, you must meet NIOSH standards for apple holding." Then you look up the NIOSH standards for apple holding and find out you need to take a $210 four-hour course to be a certified apple-holding competent person.

I feel like 50% of my brain's disk drive is just the safety knowledge that I have to keep at the forefront of my mind to do my job, which is funny because I can't even remember what I ate for breakfast sometimes.
What is something interesting most people don't know about you?
Before I moved to Colorado, I lived in Pennsylvania and managed a show house. I ran the financials and bookings. Basically, I'd reach out to bands and ask if they wanted to come play music in my living room, on my porch, or in my basement of this big house that I lived in with a bunch of people.
They'd come and perform, and we throw a giant party. There would usually be 100-300 people that would show up. It was really fun. I was also in a band at the time. We were really bad, but we got booked at my house all the time because I lived there. While it was really fun, it was not conducive to sleeping or doing well at my day job.
Where would you go on your dream vacation?
Before coronavirus, I had a trip planned to Japan with my partner. We ended up canceling because it seemed too unsafe, but I made a super detailed itinerary for it. I spent probably 10 hours on this itinerary. I visualized where would visit and then where we would walk to from there and included a map of the area. I think that would be my dream vacation.
Favorite kind of vegetable?
Being a vegetable purist, I chose beets and asparagus. Not eaten together, but if you have a good recipe let me know, and I'll try it out. I'm open to new ideas.