If you're looking for advice on selling or buying a house with solar panels, Danya Rivlin, aka the "solar-powered realtor," can answer just about any of your questions. Not only is the Boulder native a real estate agent with experience in helping homeowners sell and buy homes with solar, but she has also gone through the process of selling a home with solar panels herself.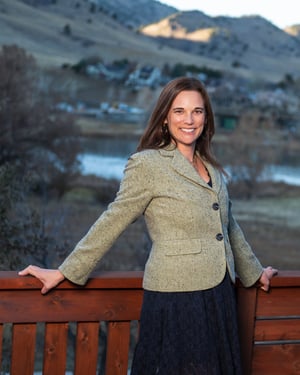 The benefits that solar can bring to a home are plentiful to both buyers and sellers. Not only does it allow homeowners to save money on utility bills, but, according to a study by Zillow, homes with solar panels sell for 4.1% more on average than similar homes without solar. However, conveying the benefits of solar when selling your home can produce some unique challenges that can be avoided with some preparation and research.
We sat down with Danya to learn more about practical tips on selling or buying a house with solar panels here in Colorado.
What is the most useful information a potential buyer should ask upfront when considering a house with solar panels?
I think the very first thing a buyer should ask and a realtor should be able to talk about is whether a home's solar panels are leased or owned. It's such a crucial question because on Colorado standard real estate contracts, there is a box where you state whether solar is going to be included in the sale. From a legal perspective, if the seller checks that box, they are promising to include the solar panels with the sale. If you indicate that the sale will include solar and the current homeowner is leasing the panels, homeowners can get into legal quandaries and sometimes end up having to buy out the remainder of the lease in order to meet the terms of the sale contract.
What should people know if they're buying a house with leased solar panels?
When it comes to selling or buying a house with a leased system, it's a bit more of a complex process, especially if the real estate agent doesn't understand the implications of leased vs owned solar panels.
I, personally, think leased panels don't offer as much of a benefit as owned panels. From a realtor's perspective, I would rather see someone take out a loan for the solar panels and have that loan paid off before closing to add value to the home. Owned panels are going to add more value for potential buyers, whereas leased panels can just bring more question marks. I don't think anyone needs to be scared of leased panels, it's not always complicated. But, like with owned panels, the more you can answer questions early in the process, the more it can be perceived as a great benefit.
What are some of the challenges when selling or buying a house with solar panels?
I don't think most people have a very good understanding of what solar energy is, how it works, how it relates to the grid, and how it ties in with whichever utility company you use. If there's a lot of uncertainty, potential buyers may see it as more of a liability or one more thing they have to fix. However, once you've lived with solar, you have a much better understanding of how it works and know that it's very hands-off.
Sellers can offer their buyers contact information for a solar company where the buyer can turn to if they have any issues or need more clarity, which is one of the most valuable things a seller can do. The information you pass on to your buyer should be specific to who installed the panels and how to operate them. When I got solar panels installed by Namaste Solar on my former home, I kept the binder that you guys gave me with all the information and specs on the system, so not only was I able to refer a contact to the new buyer, I was able to show them that binder.
Transparency and education are important and valuable when it comes to solar, and that's where the solar company can step in, especially if it's a local company.
What are some practical tips for homeowners trying to sell a house with solar panels?
Solar is a huge added benefit to a home, and you and your real estate agent can market that to potential buyers.
When I sold my house that had panels on it, we were able to show interested buyers our electric bills and checks that came back to us from Xcel Energy. We power two electric vehicles and we have kids, but we still got those checks back from Xcel. Being able to show those makes it real for the buyer and can make all the difference. It shows that not only do you get to feel virtuous and awesome for using clean energy, but you can see that it will save you money every month.
Setting appropriate and accurate expectations about what solar is and isn't is also important. A lot of people want to know if they can store solar energy and if the power goes out will they still have power. Since solar is tied to the grid, the answer is no but there are ways to connect to battery storage for energy independence.
Another question people want to know is how old the roof is and, if it needs to be replaced, what is the process is if there are solar panels. To potential buyers, that could be another potential added expense they don't want. A new roof is already expensive and that will need to be discussed during a real estate negotiation.
So, before even listing your house, get as much information as possible so all parties have a good understanding of the system and how it works as a homeowner.
Thanks to Danya Rivlin of Live West Realty for sharing her expertise with us!
---
Get expert, honest answers to the top questions you need to ask when considering solar for your home. See how much you could save with solar when you get a free home solar quote.
Recommended Reading: