Blog Published: December 2022
Part of our mission at Namaste Solar is to spread the use of solar energy, but another key aspect of it is to take care of the communities we live and work in. Business can be a powerful engine for change, and we want to use ours as a force for good. That's why we ensure that the community is a priority and one of our key stakeholders as a company. A couple ways we do this include our Community Profit Sharing (CPS) program, Volunteer Time On (VTO) for all employees, and our annual Keep the Lights on Colorado (KTLOC) campaign.
Community Profit Sharing
All of our people come to Namaste Solar with connections, passions, interests and experiences – one opportunity we get to embrace that is with Community Profit Sharing (CPS). Through this program, we set aside a percentage of profits each to share with organizations throughout the community based on recommendations from our employees.
Anyone across the company can recommend an organization for this program, and then co-owners vote to distribute the funds to the finalist for that year. This year the organizations that will receive donations include Lockwood Foundation, Red Cloud Renewable Energy, Longmont Community Justice, Dance to be Free, and Denver Community Fridges. Each of these organizations was chosen because of a personal connection, experience, or investment and we love that this program supports initiatives that are both important to our communities and our people.
Volunteer Time On
Volunteer Time On (VTO) offers paid time for any employee to volunteer for a charitable purpose that benefits the community. Each employees can use up to 20 hours of VTO (to be used during regular work hours) per calendar year, which is 1% of annual work time! VTO has allowed us to volunteer together at places like Community Food Share, Habitat for Humanity, and Veterans Community Project. In 2022, our employees have spent upwards of 480 hours volunteering.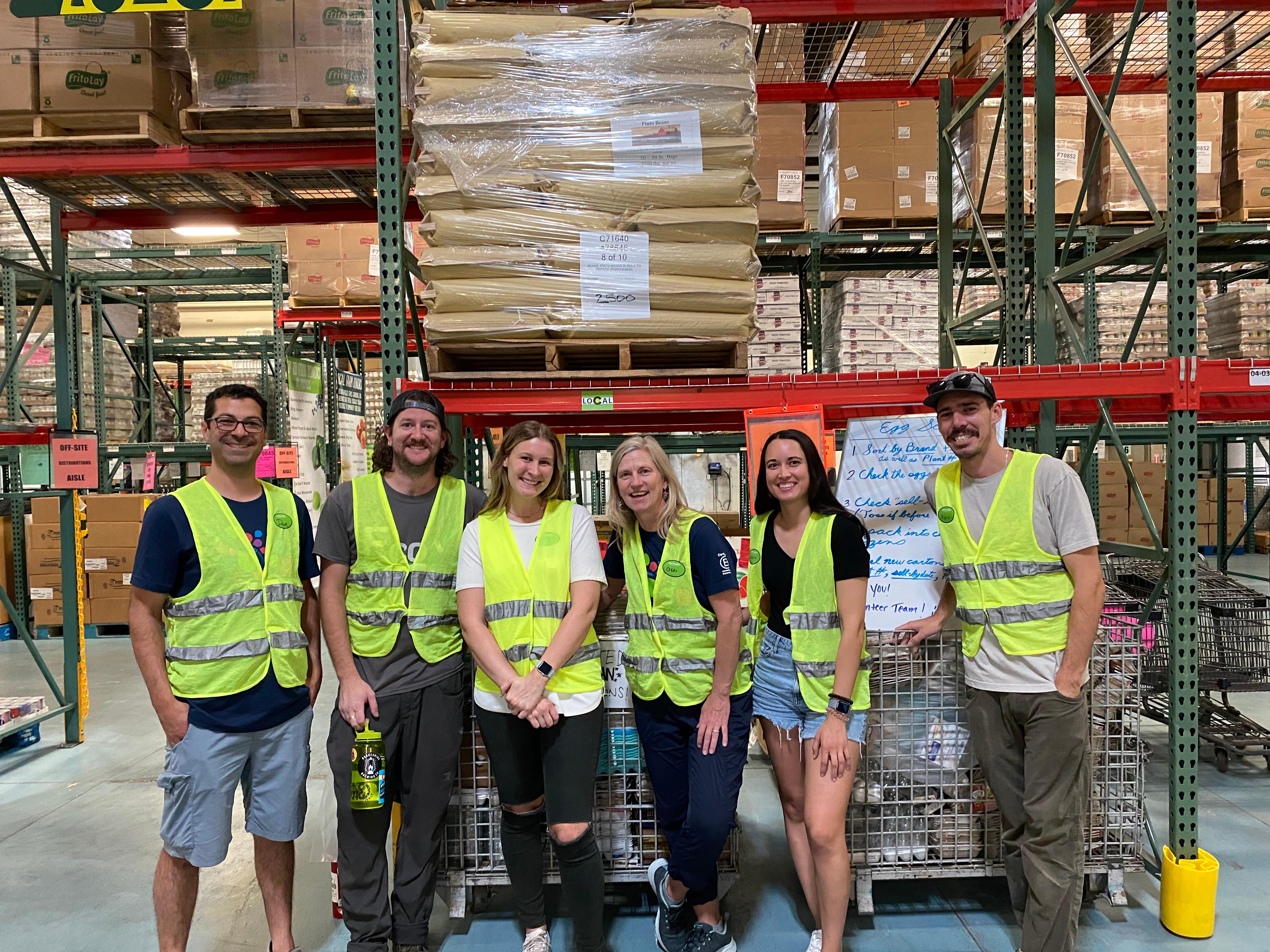 One of our most recent VTO opportunities was with the Veterans Community Project (VCP) in Longmont. A group of Namastaliens helped build tiny houses in VCP Village, which is a tiny home community designed to help homeless veterans get off the street and into permanent housing. VCP also takes a holistic approach to their work by providing support services through an onsite community center that offers mentoring, case management, counseling, and connections to other programs and resources.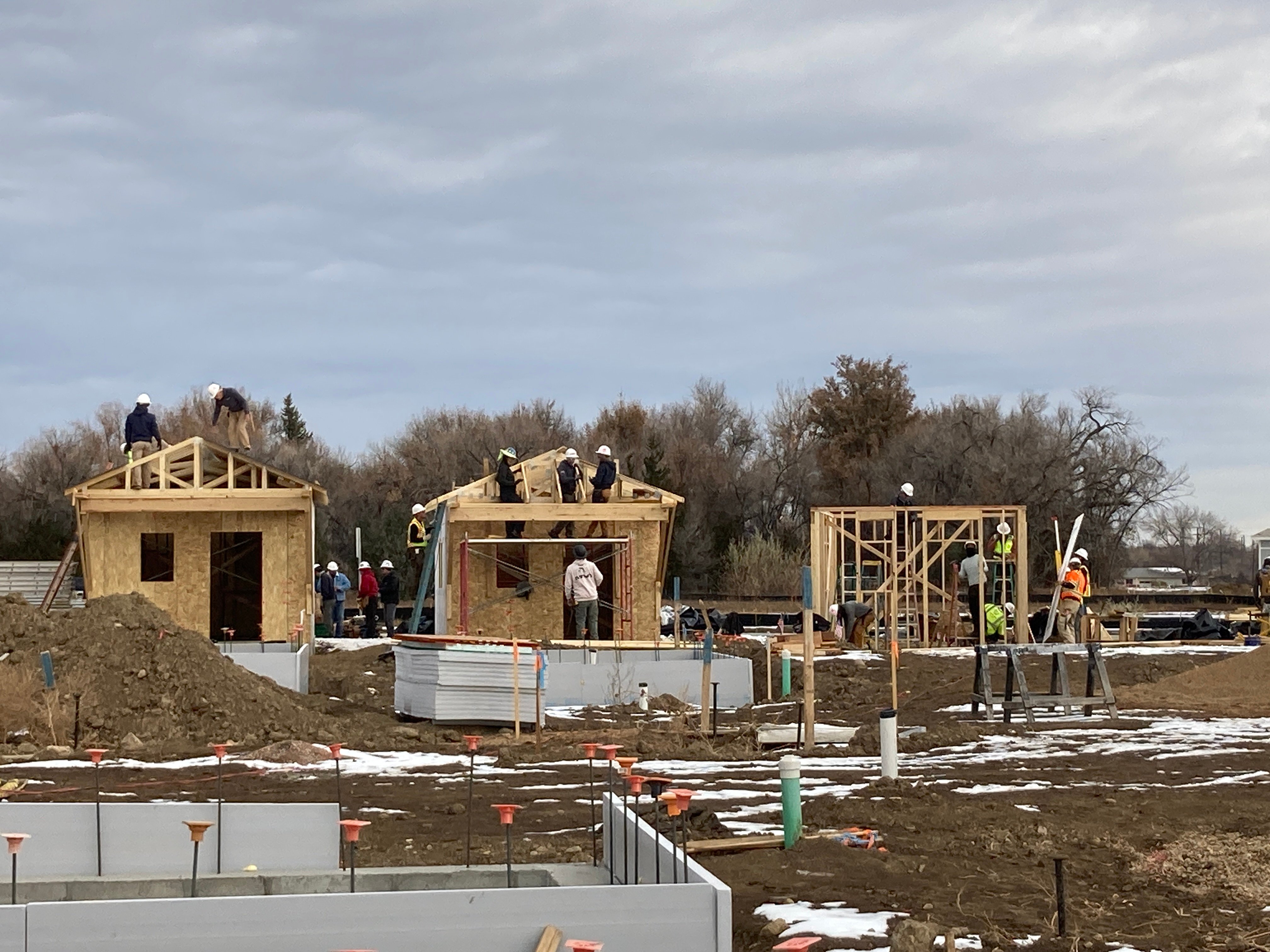 ---

"I had an absolute blast volunteering with my co-workers at the Veteran's Community Project. My grandfather is a veteran of the Marine Corps, so anytime I can do something to help veterans it is very close to my heart. I feel incredibly thankful and fortunate to work for such an amazing co-op that allows us the opportunity for VTO. And I love that they are proactive in finding events for us to volunteer."

– Gage Duran, Residential Solar Apprentice

---
Keep the Lights on Colorado
Our next passion project is our annual giving campaign. At the end of November, we wrapped up the third Keep the Lights on Colorado campaign, which partners with Energy Outreach Colorado to raise money to provide community solar subscriptions and emergency bill assistance to local families struggling with high energy burdens. In 2022, with 20 corporate sponsors and 65 individual donors, we were able to raise $100,000, which will support 400 families!
---

"Now that I am receiving solar energy credits, I look forward to paying my bill because I know I can afford it. It wasn't always that way before I was enrolled in this program. It's just such a relief to be able to pay your bill, and I am so appreciative of this help."

– Janet, Energy Outreach Colorado Participant

---
As a company that works to propagate the responsible use of solar energy, this campaign is important to us for many reasons. It allows us to make solar – a clean energy option that benefits our environment – more accessible while also removing a burden many families are facing with rising cost of living and energy costs. Plus, it's another way we stay true to our mission of creating holistic wealth for the community that we live and work in.
"There are so many people in our community who are struggling right now, and our hope with this campaign is to provide some relief and stability for folks while also utilizing renewable energy," said Jenna Stadsvold, co-owner and manager of the Keep the Lights on Colorado campaign. "We also wanted to utilize the broader business community that Namaste Solar is a part of. So many local companies and especially local B Corps came together to reach our goal of supporting 400 families. I'm so thankful that we have this network of likeminded companies that we get to work with throughout the year and partner with for this campaign."
The Community as a Stakeholder
People and purpose over profit will always be our driving force. As a business and as individuals we strive to make decisions that will bring the most positive impact to our people, community, and the world. Colorado has been Namaste Solar's home for 18 years, so it only feels right to treat our home with the respect and gratitude it deserves. Thank you for being a part of our community!
Recommended Reading