Blog Published: January 2020
"I want you to act as if our house is on fire. Because it is," Greta Thunberg said to a crowd at the World Economic Forum in January 2019.
The Swedish youth activist is right. Global warming is now a global crisis. With researchers finding the speed and extent of global warming far exceeding any similar event in the past 2,000 years, it's long overdue to take the issue of climate change seriously.
That's why, in December 2019, Namaste Solar committed itself, along with more than 500 fellow Certified B Corporations, to be net zero by 2030. The announcement from the B Corp community was made at the UN Climate Change Conference in Madrid, Spain.
"Carbon neutrality is our first step on the journey to being net zero by 2030. We are purchasing carbon offsets and solar renewable energy certificates that are equivalent to the estimated emissions generated by our fleet and facilities in 2020," said Geri Mitchell-Brown, Namaste Solar Co-Owner and Director of Employee Experience. "With 62 vehicles driving an estimated 784,000 miles in 2020 and operating buildings in both Denver and Boulder, we recognize that there is a negative environmental impact from our operations – and it's our responsibility to take action."
What Does Net Zero Mean?
To be carbon neutral, companies typically offset the emissions they directly control, known as Scopes 1 and 2. Net zero is a step beyond carbon neutral and means not just offsetting emissions but also reducing them. Companies working to achieve net zero look at both direct (Scopes 1 and 2) and indirect (Scope 3) emissions as well.
Take a look at this graphic from the Environmental Protection Agency (EPA) to better understand contributors to Scope 1, 2, and 3 emissions: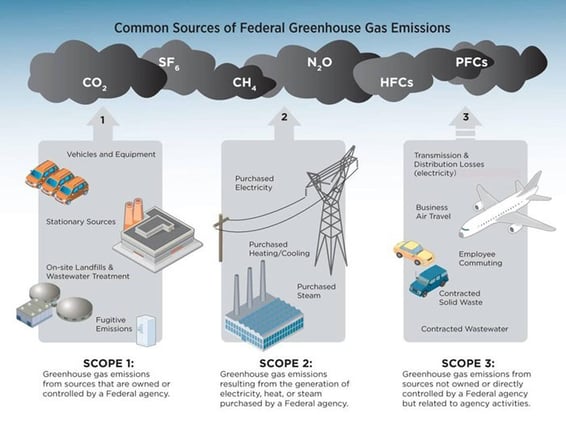 The B Corps' plan is to get two decades ahead of the Paris Agreement's goal of net zero emissions by 2050 to limit the effects of global warming.
"Part of an overall 2030 commitment is we will evaluate our Scope 1, 2, and 3 emissions and identify potential ways reduce them," Geri said. "We're asking questions like, 'How far into our supply chain is feasible to evaluate?' and 'What's affordable?' What we're committing to is taking that journey of evaluating and reducing to make a significant difference by 2030."
"I think making a commitment like this codifies our walking the talk and not just helping other people do that through solar energy," said Jason Sharpe, Co-Owner and CEO of Namaste Solar. "I'm excited that this is more formalized. I think having a commitment that involves a third party helps keep us accountable to walking our talk."
How B Corporations are Going Net Zero
Becoming net zero by 2030 is going to take a lot of hard work and creative problem solving by folks at Namaste Solar and other B Corps that have made this commitment.
To start our net zero journey, Namaste Solar is committed to being carbon neutral starting in 2020 then working our way toward net zero over the next decade. We're working with fellow B Corp 3Degrees, a company that helps businesses find carbon offset solutions, to negate 100% of our Scope 1 and 2 emissions.
Tackling our Scope 3 emissions will most likely be our biggest obstacle as a company because we do not directly control those emissions. As an organization, we'll have to identify organizational changes, impact our waste stream, and explore how we can influence our supply chain.
"Scope 3 is really going to be the challenge point," Jason said. "I think partly because we do a really good job with Scopes 1 and 2, but I'm excited about the conversations around that. I think that will open people's eyes."
To accomplish our hefty 2030 goals, we plan to carry out the following:
Invest in carbon offset projects to address our Scope 1 emissions – these are direct emissions from sources we can control. This includes our company vehicle miles and natural gas usage in both our offices.
Purchase Renewable Energy Certificates (RECs) to address our Scope 2 emissions – these are our indirect emissions that come from the production of energy. This offsets our electricity usage in our Boulder office – our Denver office is 100% offset because it runs on solar energy. To help offset emissions, we also offer free EV charging stations at both offices.
Long-term projects will include:
Determine a process for evaluating Scope 3 emissions – a broad category of indirect emissions that occur as a result of a company's operations but are not directly controlled by that business. This type of emission includes emissions sources like the creation and transportation of materials we purchase (like solar panels), as well as employees' transportation to and from work.
Once we determine which Scope 3 emissions we can have the most impact on, we will be taking steps to reduce and/or offset them.
Zero to hero
Choosing the path of sustainability isn't the easiest or most financially convenient choice in the short term, but it's an investment in the long-term health of our company and our environment. We're excited to join the B Corp community in making this commitment to be net zero by 2030, and we'll continue to share details of our progress on this journey. With a little help from our B Corporation friends, Namaste Solar is dedicated to holding ourselves accountable and taking action in response to the climate crisis.
Learn more about what it means to be a B Corp or see Namaste Solar's B Corp score.