Blog Published: August 2023
Solar offers a significant economic benefit for commercial property owners while also positively impacting the environment and offering a path to compliance for new municipal requirements like Energize Denver. Namaste Solar is well versed in commercial solar financing and lending options to help more businesses access the value of solar. In particular, we are educated and experienced with the Colorado Clean Energy Fund and Colorado C-PACE financing options.
When providing you with a free commercial solar analysis, our team will outline the best way to achieve financial success for your project. For example, in many cases leveraging 50% of the system price will allow you to breakeven after just year-1 when you monetize the federal Investment Tax Credit and Bonus Depreciation. The long-term utility savings and renewable energy credit income will then exceed your annual debt service payments, keeping you cash flow positive for the system's 25-year+ life.
The Colorado Clean Energy Fund
The Colorado Clean Energy Fund (CCEF) is a nonprofit investment fund offering loan products that support access to clean energy and energy efficiency improvements for individuals and businesses in Colorado. Some of the financing options they offer for commercial properties include the Energy Project Accelerator Loan (Energy PAL), Clean Conversion Loan, and Bridge Loan. Taking advantage of these products will enable you to improve your building's efficiency, reduce utility expenses, and keep up with market demand for more green buildings.
Energy
PAL
Energy PAL is a short-term loan program that closes financing gaps for smaller projects that are otherwise difficult to finance. Businesses and tax-exempt organizations can leverage up to $500,000 with fixed rates and terms between 2-10 years. Access to funding is quick, and the loan is secured via a filing on the equipment instead of a lien on the property.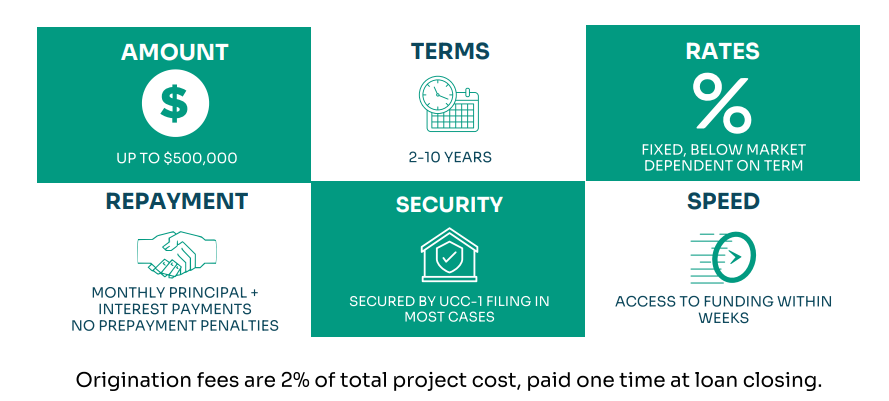 Image source: cocleanenergyfund.com
Clean Conversion Loan
The Clean Conversion product offers longer terms up to 15 years and up to one million dollars in funding. It can be a flexible alternative to C-PACE given it's secured by a subordinate lien on the property.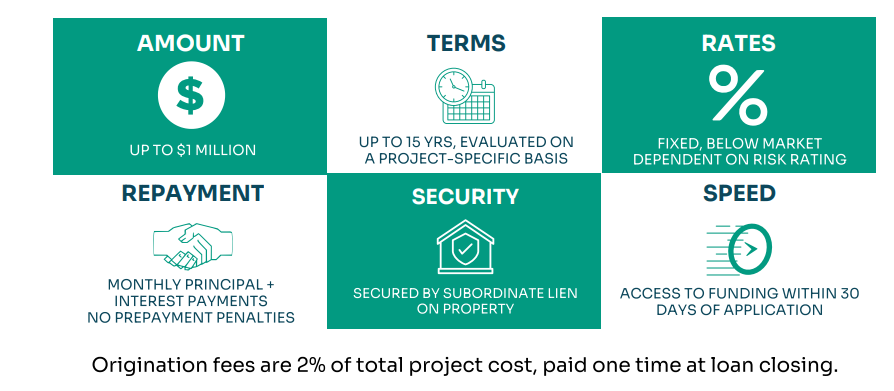 Image source: cocleanenergyfund.com
Bridge Loan
The Bridge Loan covers any out-of-pocket expenses that may be required while an owner awaits grant funding, the tax credit, or any gap on timing from other funding sources. For example, a Bridge Loan is suitable for a nonprofit who receives a grant for 70% of the system's price and is on the hook for the remaining 30% while they await the tax credit direct payment under the Inflation Reduction Act.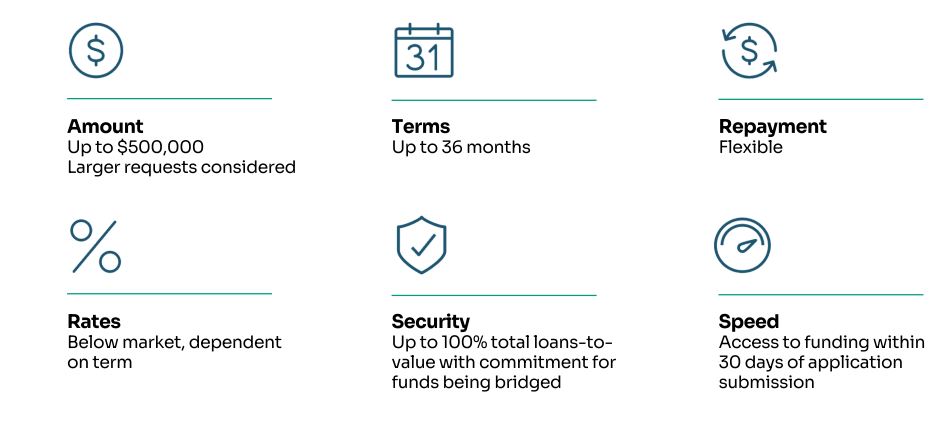 Image source: cocleanenergyfund.com
Colorado C PACE Program
The Colorado C-PACE program helps building owners complete energy efficiency and renewable energy improvement projects with terms up to 25 years, which aligns well with the life of a solar PV system. This private form of non-recourse financing is tied to the property via a special tax assessment facilitated by the county, so it transfers to the next owner if the property is sold. Because the debt is repaid on property taxes, this financing vehicle is particularly advantageous for NNN leases whereby the tenant uses a portion of their utility savings from solar to pay the CPACE note.
Commercial Solar is a Big Investment, But Not an Overwhelming One
Overall, you have quite a few options to finance your commercial solar project. Solar is a big investment, but it doesn't need to be an overwhelming one. It's simply a way to earn a return, make a positive environmental impact, and differentiate your business just by taking advantage of your unused rooftop!
Our non-commissioned solar developers are here to answer your questions and provide you with a detailed analysis of what solar can do for your bottom line. We have a no-pressure approach; reach out to start a conversation.
Recommended Reading