Blog Published: March 2022
We know that businesses have a lot to manage and electricity rate changes might not always be top of mind. We want to help keep you informed about your options, especially when it comes to saving money or investing in solar.
Recent Xcel rate changes now allow more customers the ability to choose between a secondary general (SG) rate and a commercial (C) rate. Switching to the C-rate introduces the potential for saving money, especially with solar, and here's what you need to know…
What is the rule change?
Currently, businesses are commonly billed on Xcel's SG-rate. On the SG-rate, companies are charged for both Demand in kilowatts (kW) and Energy in kilowatt hours (kWh).
Reminder: This means that you are paying for the maximum kilowatts of power drawn from the grid during the billing period (Demand) plus the total kilowatt hours of energy consumed during the billing period (Energy).
The other common commercial rate - the C-rate - charges customers only for energy (kWh) consumed. While the energy rates are higher on the C-rate, the lack of demand charges can outweigh those increases, and in some cases significantly reduce your total electric bill. Previously, to qualify for the C-rate, a business's measured demand could not exceed 25 kW in the last 12 months. Now, the rate change makes you eligible to switch to the C-rate if your demand for 12 months does not exceed 50 kW.
Why is Namaste Solar telling me about this?
Xcel will not automatically inform customers if they are eligible and would benefit from switching to the C-rate. Customers will be responsible for requesting a rate switch, which is where we come in. Our non-commissioned solar experts are happy to analyze your last 12 months of electric bills to determine if switching to the C-rate is a smart move for your business. Additionally, the C-rate plus solar can introduce much greater savings for you.
One note to remember: if you exceed 50 kW in demand, Xcel will automatically switch you back to the SG-rate and you will have to wait another 12 months before you become eligible for the C-rate again. So, looking at your past energy usage and monitoring your future usage will be an important part of this process.
Understanding the rate differences
Here are two examples of Xcel bills that highlight the differences between the two rates and the charges under each. As you can see on the left with the C-rate, you are no longer charged for kW and most of the kWh units highlighted in yellow can be offset by producing your own energy through solar, which is explained in more depth below.

What does solar have to do with it?
Solar systems produce kWhs, which offset the energy you are using and decrease the number of kWh you need to buy from Xcel. This means that a solar system that produces all your annual kWh can nearly eliminate your electric bill and reduce your operating expenses by thousands of dollars.
For example, an SG customer in a 20,000 ft2 single-story office space with an average monthly usage of 7,700 kWh and demand of 32 kW would save $350 per year simply by switching to the C-rate. By adding a 75 kW solar system, the same customer in year one would save $13,000 on their electric bills and would generate $4,000 in Renewable Energy Credit (REC) payments from Xcel. Additionally, by adding solar, businesses can capitalize on the Federal Investment Tax Credit and Bonus Depreciation and the benefits that come from the marketability of your green building.
Another note to remember: The advantages of solar work in both owner-occupied and leased spaces. See a case-study of the latter.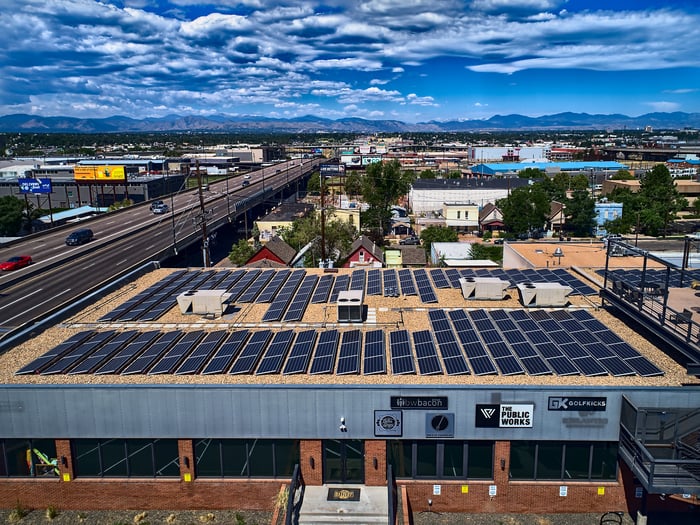 The Public Works, a multimedia services company in Denver, installed an 88.8 kW ballasted rooftop solar panel system on their Denver building. This system will offset over half of their usage, likely even more as the building owner implements additional energy efficiency measures.
Next steps…
We are happy to help you determine if jumping on this rate change is right for you (with or without solar) with a free 15-minute consultation. Our non-commissioned solar experts can also let you know if going solar would be an added benefit for your company.