Blog Published: December 2019
In 2018, Namaste Solar moved its Denver office from the RiNo neighborhood to the Sun Valley neighborhood, a racially diverse neighborhood that is also one of the poorest neighborhoods in the state of Colorado. That decision came with the awareness that our company is predominantly white and the intention to become a partner and an anchor business in the neighborhood. But what does that mean and what does that look like?
"There were concerns about otherness and whether or not we're going to be able to integrate into the neighborhood. How do we become part of this neighborhood in a real way?" said Taz Romine-Mann, Namaste Solar Co-Owner and Fleet & Facilities Supervisor. "We thought about doing a mural and giving some part of our building to let the neighborhood claim some ownership of our space."
Photo of Faatma Be Oné and Emily Paulsen working on the mural (Photo by Ken Hamblin III)
Creating Connections
Cut to 2019 and Taz had been regularly attending meetings of the Sun Valley Community Coalition, the registered neighborhood organization. The mural idea was still in the back of his mind when he was at a neighborhood meeting and met Annie Phillips, a community outreach team member for Meow Wolf, an art and entertainment company that creates immersive art installations. Meow Wolf is another Certified B Corporation coming into Sun Valley, so some collaboration was natural. The idea of a mural surfaced and took off.
Meow Wolf was a key partner in the mural project because of their connections to local artists, but they also helped shape how we approached the mural and our relationship to Sun Valley. "Zoë Williams (Director of Community Engagement at Meow Wolf) said one of the perspectives they really try to hold when looking at these things is less of a transactional one and more of a relational one," said Taz. "The tendency can be for companies to look at it as a very one-directional occurrence. I'm giving you a thing, you're receiving a thing, and that's the end of it. The perspective that they had was more of a bilateral, relational interaction."
A close of up the mural (Photo by Ken Hamblin III)
Being Represented
In addition, Meow Wolf connected the project with Faatma Be Oné, the artist who became instrumental in making this mural a success. Faatma has been an artist her whole life and has several murals in her portfolio. She was also able to pull from her experience as an organizer (as well as experience as a farmer, restaurant owner, caterer, and lifelong citizen of Denver) for this project.
Faatma was instrumental in part because she was able to help Namaste Solar bridge the racial divide between our company and the neighborhood. "I've done projects like this before, and I think that's why Zoë thought it would be a good fit for me to do this. Because there is a way that it happens that is not easy breezy. And you can definitely say this – if you don't look like the neighborhood you're trying to be in, and they are a disadvantaged community and they didn't ask for it, then they are going to give you grief. What are you doing here? What do you want to be here for?"
With that in mind, Faatma led the efforts to collaborate with the neighborhood on the design for the mural. Faatma worked with kids at the Sun Valley Youth Center, exploring art techniques with them (zen doodles, sketching, anime, and large wood panel paintings) while gathering their input for the mural. "While we're doing art, we're talking about what it's like to live in the neighborhood," she said. "What would it be like if you were on the mural? What would you look like? Who would you be? What would you be? Because they were interested in being represented."
Faatma Be Oné in front of the completed mural (Photo by Ken Hamblin III)
The Mural Unveiled
The process to paint the mural took roughly 4 weeks to complete. Faatma outlined the design first, and then kids from Sun Valley and employees of Namaste Solar were invited to participate in the painting. Once completed, Namaste Solar and Meow Wolf partnered with Sun Valley to create an unveiling event, called Art + Sol, to showcase the mural while also celebrating the neighborhood
All the food at the event was prepared by chefs from the neighborhood through Sun Valley Kitchen, youth art was on exhibit, kids were invited to participate in a talent show, and Aztec dancers performed a land acknowledgement dance. "We're always creating our society and our community, and I think at Art + Sol we had an opportunity to create a level of complexity that was previously not here," said Taz. "I think it came together in a way that was really positively embraced. Lots of people come to Sun Valley to give help, but there are very few things that express that this neighborhood has unique value all of their own."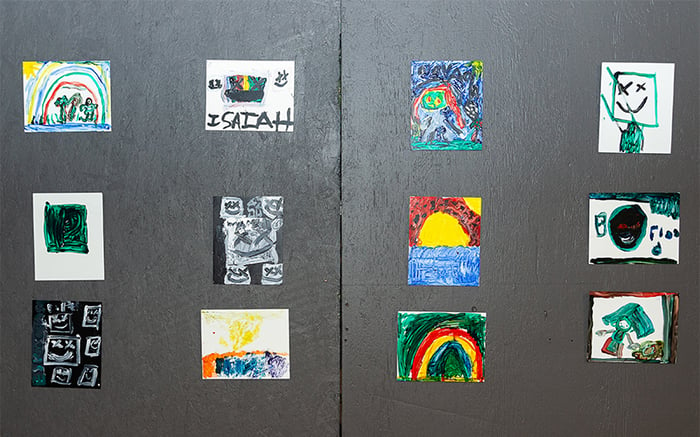 Some of the kids' art on display at Art + Sol (Photo by Ken Hamblin III)
As for the mural itself, the reaction at Namaste Solar and in the community has been overwhelmingly positive, but if you ask Faatma about the meaning behind the design she will skillfully evade your question and put it back on you. What do you see in the mural?
"I feel like most artists, we're like diviners. Whatever feelings you have we just take them, and we translate them into a thing," she said. "I have certain symbolism and iconography that I use all the time, and you'll see it throughout. It does mean something to me, but that's not what's important because once it's out there it means whatever you think it means. It doesn't even belong to me anymore. It's public."
And in the end, this mural is for Sun Valley and was created with, by, and for the kids who live there. Faatma said, "It was just meant to be for those kids. That's all it was meant to be for. I wasn't worried about anybody else but what they thought about it."
Faatma Be Oné in front of the completed mural (Photo by Ken Hamblin III)
Where do we go from here?
The work on the mural and the Art + Sol event was a launching off point for Namaste Solar's relationship with the Sun Valley neighborhood. As a predominately white company trying to be an anchor business in this community, we have a lot more listening and relationship-building to do. "I think Namaste Solar showed its desire to be an engaged, committed, and real partner with the community at this event," said Taz. "It was a big step in the right direction that we can continue to build on."
A close of up the mural (Photo by Ken Hamblin III)