The worldwide COVID-19 crisis has made it a strange time not only to do business but to live our day-to-day lives. We're all having to make big adjustments to this new reality.
We're incredibly grateful to the folks out there who are still interested in going solar and willing to have those conversations. For those still pursuing solar for their home or business, we are still able to answer all your questions and walk you through the process. Thankfully, we already had the infrastructure in place to support our solar advisors as they work remotely.
Our residential and commercial teams are still providing detailed, honest, and customized quotes and proposals using the satellite imaging and design tools we've been using for years to support our customers. Our teams are non-commissioned and will be the first to tell you if solar is not the right fit.
Here's what our remote process currently looks like for our home and commercial solar energy quotes and proposals.
Residential Solar Energy Quotes
Once you fill out our free solar energy quote form, our residential support team will first reach out to you either by email or phone to get started with a few basic questions, specifically about your roof and electrical usage.
Next, our sales support team will pass along your information to our home solar advisers. They can prepare an estimate of how much solar would cost you, design what a solar array would look like on your roof, and determine how much of your future electricity usage would be covered by solar production – all using remote technology.
We use advanced software that combines satellite imagery and LIDAR (short for Light Detection and Ranging, a 3D modeling technology) to produce an in-depth 3D model of your home. Based on this, we can give you an accurate depiction of what your house will look like with solar panels, how big your system will be, and how shade will impact the design of your solar array – all remotely. This is technology we've been utilizing for years to provide a detailed and customizable experience for our solar customers.

These graphics from a customers' quote detail where the homeowner's solar array will most effectively be place on a house and how much solar production is created verses the homeowner's usage.
Next, our home solar advisors will put together a free solar quote for your home solar array which will include the following:
What a solar array would look like on your home
An estimated average annual solar electricity production
Solar production vs. your amount of electrical use
The total cost of the system along with the lifetime value of the system
A payment plan if you choose to finance your system
Equipment warranties
Financial and environmental benefits of going solar
Incentives and rebates available to you
After the quote is sent to you, this would typically be the point in the process when a home solar advisor would reach out to schedule a visit to your home to finalize the design and details of your quote, inspect your home, and walk you through your solar proposal. Due to COVID-19, however, our home solar advisors will instead coordinate a consultation with you either by phone or video to discuss the details of your design and quote. We ask customers to send us photos of their electrical box and roof from the ground to verify a few details, but otherwise the remote technology provides us with very reliable information for quoting your home solar panel system.
Commercial Solar Energy Quotes
After you begin the process by calling our team or reaching out online for a consultation, our initial conversation will focus on answering questions you have about solar, Namaste Solar, determining your goals, and discussing whether or not solar is a good opportunity for your business and building. We'll also request your 12-month utility billing history for further evaluation, but that isn't essential information for an initial consultation.
If you choose to move forward, we'll introduce you to your project developer, who will work on an indicative proposal using aerial imagery and utility billing history. Your utility history will help determine how much solar you need and aerial imagery will tell us what can fit on your property. Your project developer will also model a financial pro forma, taking into account your specific tax rate.
From this, we can determine the appropriate system size and run production and financial modelling to inform system size, price, and returns. Should you want to reserve capital during this time, we can discuss financing options that often allow you to be cumulatively cash flow positive with $0 out of pocket.
Next, our in-house design engineers will use solar-specific software to design a custom solution for your property that meets local authority jurisdiction – fire, electric, and building codes.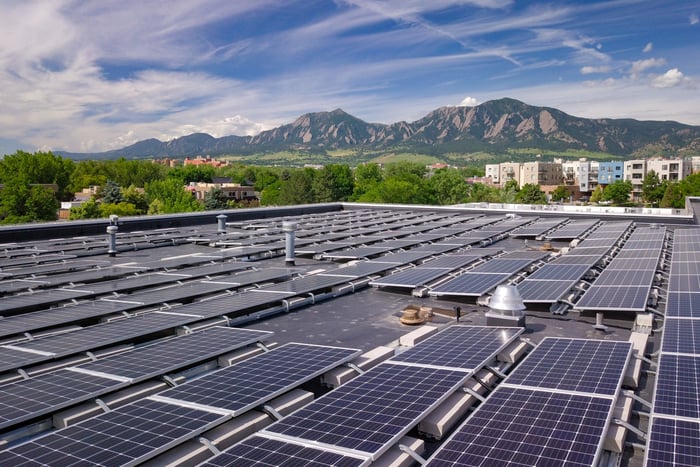 An aerial shot of the 154-kW rooftop system at Conscience Bay Company in Boulder, CO.
To provide you with a final, buildable design and price, our design engineers do need to visit your property to verify site variables like rooftop and electrical equipment. With COVID-19, we are proceeding with extreme caution to protect our customers, employees, and general public, so all in-person site visits will be performed in accordance with social distancing requirements. However, should you want to postpone an in-person visit during this time, we can evaluate your roof remotely. Our designers can also request photos or use video conferencing to verify details of the electrical room with your team.
After we've sent you your indicative proposal, we would normally suggest an in-person meeting. Now our team is doing virtual appointments to review the proposal and project economics, answer questions, and discuss next steps.
At this point you'll have a final proposal in hand that has been checked against the real conditions of your property. We will be available to answer any remaining questions, and should you accept the proposal, we'll execute the contract and add your project to our operations schedule.
Navigating the Future
It's a strange time right now, but we're determined to be there for our community and customers as we make these adjustments. It's times like these where we find ourselves especially grateful for both.
We remain committed to ensuring that your home and/or business can access the benefits of solar and we thank you for your patience and flexibility as we adjust to the new realities of this public health crisis.
As the situation evolves, we'll keep you informed and continue to press forward one day at a time to keep each other safe and supported.